The Surrealist and Fantastic Realist Art of
The Mystic Otto Rapp
WELCOME TO MY WEBSITE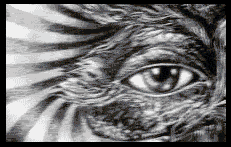 Please use the Navigation Bar on the left to browse through my Galleries and Web Pages
Wherever this icon


appears, it will always return you to this screen.
Links to other sites open in a separate window (unless otherwise indicated),
just close window to exit and return to my site.
These icons, when displayed below an image, are links to
associated merchandise and prints.

Some of my pages require extensive scrolling through chapters - for your convenience, I added this return to top bar after chapters:

Click it to go back to the top of the page (some have a chapter index with links that allow jumping to the chapter of your interest).

Your input and suggestions are welcome!
I would appreciate it if you contact me: sign my guestbook or write a e-mail.
I recently uploaded a few more works - they can be found in a temporary location HERE until I open a new gallery.
As an extension of the private Visionary Art Network I founded in January 2009, this Public Gallery displays some of the finest Visionary/Fantastic Realist/Surrealist Artists in the World!



click the banner - opens in separate window
I entered this recent drawing in the Saachi Gallery SHOWDOWN VI, Round 8, between 14-12-2009 and 21-12-2009, called CHRISTAN FANTASY PORTRAIT. Please vote for it
HERE
Recently published: a Catalogue of my art, at Lulu Publishing (my storefront) - for a preview of the pages, click the image to take you to my Journal entry.
This Page is updated regularly.