Mustang and Ford Club, Lethbridge, Alberta, Canada
Jan 6, 2019 - by Dean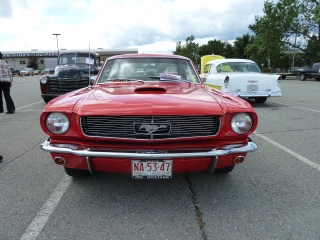 Meetings are Now Indoors at 6:30 pm, at 5 guys Burgers n Fries. We may decide to switch locations after Jan Meeting. The dates for upcoming meetings are listed on the left side and have been updated until end of 2019. Meeting dates posted until the end of the 2018
Indoor and Outdoor Meetings are at 6:30 pm.
Some Shows and Cruises will be listed here, please go to the forum or Facebook group for additional information on Shows and Cruise's we attend during the year.
If you are interested in coming to a outdoor meeting, Click Here for the Outdoor meeting map location. Come on out and introduce yourself, as we usually draw in several onlookers. In the Summertime meetings are every other wednesday. We also have a facebook page, check it out! Click here here to visit our Forum.
August 6, 2017, by Dean
Who We Are.
We are a group of Mustang / Ford owners & enthusiasts who get together to talk about Mustangs, Fords and Mercury vehicles, do some bench racing and go to car shows, cruises and races.
The Club was Founded in 2000 by Dan, Dean, Earl, Shane, Trevor T
Where are We.
We are mainly located in Lethbridge, & Medicine Hat in Southern Alberta with other members from across Alberta, Canada
We meet on the 2nd wednesday of each month in the Offseason for a club meeting/supper to dicuss club business.
During the summer, Meetings are Twice a month, on the 2nd and 4th Wednesday at 6:30 pm
Summer Meetings are at Chinook Tourist Information Center
Winter Meetings are at usually at 5 Guys Burgers n Fries
We also get together with our cars for cruises and other events.(** click map link for location **)
Members.
To be a member of the Southern Mustangs requires only an enthusiasm for Mustangs & Fords, and Mercurys
There are no membership fees at this time, although Southern Mustangs apparel and decals will be available to anyone who is a member.
We do have window decals to display on your ride if you would like to purchase one.
We will do a 50/50 or another form of draw to raise money for website, BBQ, Christmas Party
Anyone from anywhere is welcome to be a member of the Southern Mustangs.
Most of our Members are from Southern Alberta, with some north of Calgary
Contact us for more information if you are interested in being a member of Southern Mustangs.
Ownership of a Mustang is not required, many members have various Fords & Mercury Vehicles.
Rules
Have Fun no matter what
No Fighting
No Burnouts in other Members vehicles, unless permission First
Participate in as many Meetings / Events as possible
Violators will be forced to clean everyone elses tires at future car shows.
Jan 6 - 2019, by Dean D
Delay in updating site due to editing program, should be ok from now Jan 6/2019. If you have a link to add, email us. For Club members if you have any ideas, or events to add Please Bring it up at the Meeting. Your input is how we make improvements.
Thanks for visiting Southern Mustangs