Carolyn was born and raised in the Peace Country. As the youngest of the Three Generation Watercolour Artists, she remembers conversations about watercolour and snoozing in front of art videos long before she took much interest in painting. She took or assisted in Judy's art classes for many years and has also had lessons from Evelyn Harris, Jake Mohl and Jack Reid. Carolyn began showing her work for the first time at the age of sixteen and since then has shown in Spirit River, Fairview, Beaverlodge, Hines Creek and Grande Prairie. She now teaches watercolour, drawing and kids' art classes in Spirit River and Fairview, including the watercolour portion of Artists at School in Fairview.
Carolyn has a passion for exploring, especially out of the way, secret places in the Peace Country. Her paintings are mostly from expeditions, by sandal or by snowshoe, which are never undertaken without a camera. She paints landscapes, close-up studies, wildlife, pets and flowers. It is exciting to put together her two favourite activities: exploring on foot and in paint. It is especially fulfilling to achieve a painting that stirs a memory or a feeling, in herself or in someone else. She says, "I want to show you the things I cannot see and have you tell me that you can. No one can or will experience a painting in the same way the artist does. That's the beauty of watercolour: what you see may even change from moment to moment as light or perspective alters."
Besides watercolour, Carolyn has painted several
murals
. Teaming up with a friend, she has painted at local schools and the library, and even the ceiling of a new house. She and Judy took on a panel of a giant mural in celebration of Spirit River's centennial in 2006.
Carolyn has an English degree and might put it to use one of the

se days.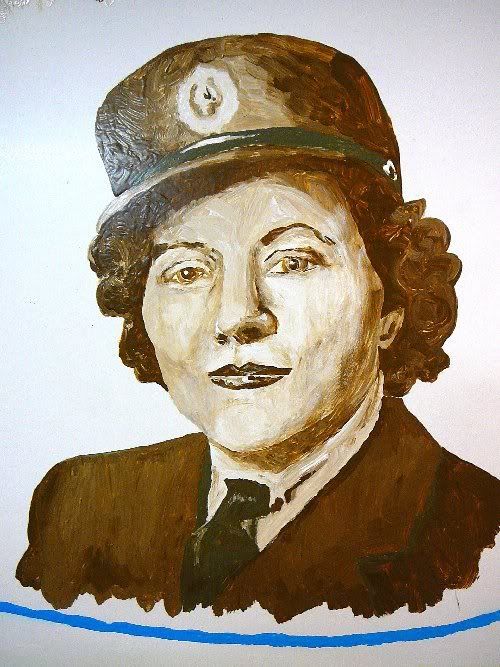 Carolyn and Judy's decade mural of Spirit River