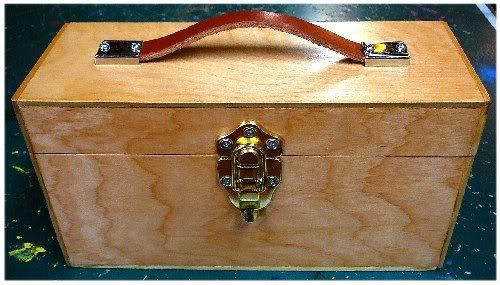 This handsome, lightweight wooden box is a perfect fit for everything a travelling artist needs:
Water containers - a Tylenol Arthritis box with a screw cap is great, but any bottle of a decent size and a good
seal will work. These ones have a compartment to keep them upright just in case.
Brushes - it's good to have at least one round brush of a good size (8 to 12). Otherwise, take whatever brushes
are essential to you. These are all travel brushes, and each has its own slot to make it handy for use.
Paints - this kit is a Windsor and Newton Cotman travel kit, refilled with pigments of personal preference. The
plastic box sits in the rim of the wooden box to keep it flat and prevent leaks after painting.
Paper - Carolyn uses Arches 140Ib cold or hot press paper in a block, or regular sketching paper in a book as
a matter of preference. Either is handy for travel and is carried separately.
Shop cloth - this is a great discovery for watercolourists! It's a sturdy, absorbent cloth in a paper towel format.
You can use each towel for a month and save bags of paper towels. Just rinse and dry if they get too mucky.
Pencil, eraser, sharpener - for obvious reasons.
Mixing dishes - for a little extra mixing space, Carolyn carries these plastic stacking bowls by Raphael (bought
at deSerres). The lid works well as another mixing surface.
And that's it, the artist is all set to paint out in the field!
Here's Judy's Fragonard travel box from Dick Blick: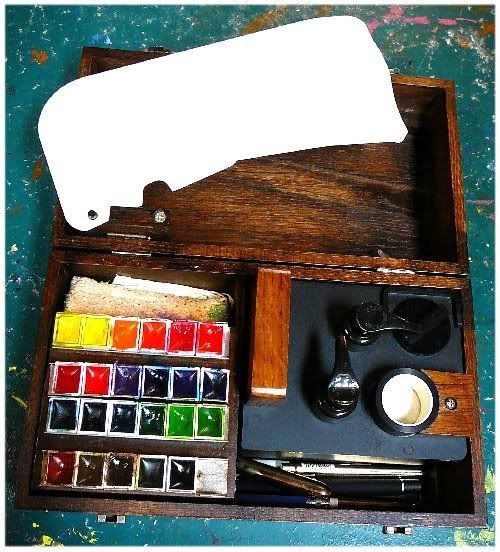 It has twenty four half-pans of Pebeo Fragonard paints,
an internal water-recycling system, palette and travel
brushes, with room for lots of pencils and other extras.
Ordinarily Evelyn, Judy and Carolyn use larger palettes
with more colours, ceramic mixing dishes, and a greater
selection of brushes. It's nice to strip the supply list down
to bare essentials sometimes, though, and see what can be
done with just a spit box and a brush.
Here's a site showing one of the many Altoid box watercolour
kits on the web. This one is a bit of extra work, but it is
worth it. Here's our reproduction - the Cotman half-pans are resurrected!
http://artezan.blogspot.com/2006/11/my-take-on-altoid-box-pallet.html